CONCEPT
A research project to explore
possible forms of cities
through experiments and prototyping.
"META CITY" is a research project exploring the form of "possible cities" through experiments and prototyping. The results of the research will not only take the linguistic approach but also the art communication approach that can provide margins and cues on the receiving side. We will involve stakeholders with various perspectives and skills such as experts involved in urban areas and also artists and researchers who may pose problems and issues, designers who will explore solutions to the problem, engineers who also will realize solutions, local communities that speaks from the perspective of residents, continuation of enterprises and administrative offices that seek out ways to execute them.
We will hold a conference including an art exhibition once a year to give an achievement presentation and to socialize and participate in activities, and we will continue carry on with the laboratory which will continues with the exploration and prototyping throughout the year, and transmit the media contents of activities to the world.
ART EXHIBITION

"AVA/V2
(Particle Physics Scientific Installation)

" by Ouchhh

Inspired by the iconic dome structure of Buckminster Fuller, the main inspiration was created from an experiment focusing on elementary particle physics. It is not only the inside of giant dome but a special installation that has projection mapping to cover the whole dome with six projectors against a 360 degrees outside. It has won various awards in various countries around the world, and also includes ARS Electronica and TED x CERN Works that have been exhibited in global creative scenes and become a popular topic. This time "ouchhh" will visit Japan for the first time and will have an exhibition and give lectures on its advanced media art work.
---
"Ouchhh" is a creative new media agency who have been showing outstanding results in the art science scene with numerous awards won including the Ars Electronica. With expertise in various technologies in the field of creating experiences beyond the boundaries of technology, art, science, interactive media platform, sculptures and painting expressionism by visual generation using AI and big data, immersive visual experiences such as kinetic permanent art, dome and VR, also image + music performances including projection mapping using the outer wall of the buildings along with various other technologies. Especially in the field of media art and architecture, they are bringing the space and experience to connect digital world and the physical body into a hybrid relationship.
Ouchhh Award History
| | |
| --- | --- |
| 2017- | ARCHITECTURAL _ AI PERFORMANCE- Bolshoi Theatre - Circle of Light In Moscow, Russia |
| 2017- | THE BIGGEST ARCHITECTURAL AI PERFORMANCE - iMapp in Bucharest, Romania |
| 2017- | "Homeomorphism" Japan Media Arts Festival |
| 2017- | "AVA_V2" - York Art Gallery - UK |
| 2016- | "Homeomorphism"- National Space Center - UK |
| 2016- | "Digital Couture/Arzu Kaprol" - Mercedes-Benz Fashion Week- Israel |
| 2016- | "Sphinx", Audio Visual Public Art Piece, Roma, Italy |
| 2015- | "O", Europalia | International Arts Festival, Brussels ,Belgium |
| 2015- | "POLYHX", Signal Festival, Prague, Czech |
| 2015- | "AVA", Alter Paname, France, Paris |
| 2015- | "Homeomorphism", Montreal, Canada |
| And others | |
OTHER EXHIBITION
Projection Mapping
(ticket free)
Projection Mapping (ticket free)
January 18th(fri)- 19th (sat)17:00-20:00
Repeated continuous projection of two artist's creation
Screening place:Makuhari Messe International Conference Hall Wall surface
A huge and radical projection mapping will be screened on the wall of the International Conference Hall of Makuhari Messe. OUCHHH will be visiting Japan for the first time as a special guest and will demonstrate projection mapping using Japanese constellation data.
Also including, "Odyssey" a work by Maxime Guislain in Belgium, which produces projection mapping contents in various countries including Japan, will also be screened.
You can see the high quality 2 pieces of projection mapping show.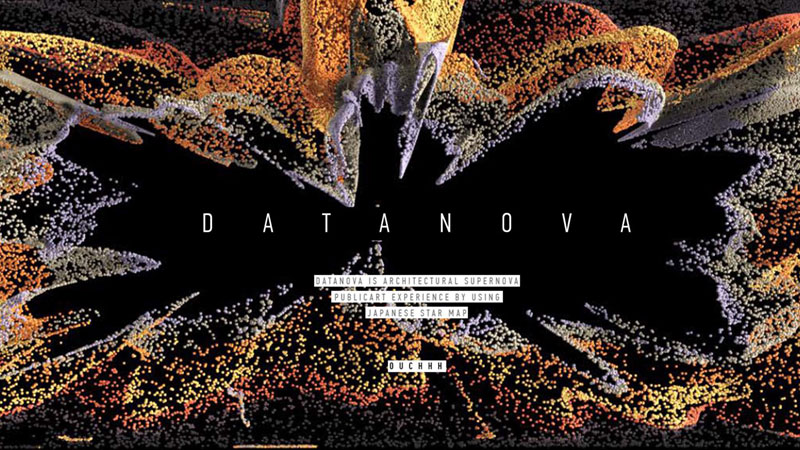 "DATANOVA" by Ouchhh
DATANOVA is architectural data supernova public art experience by using Japanese Star Map Data.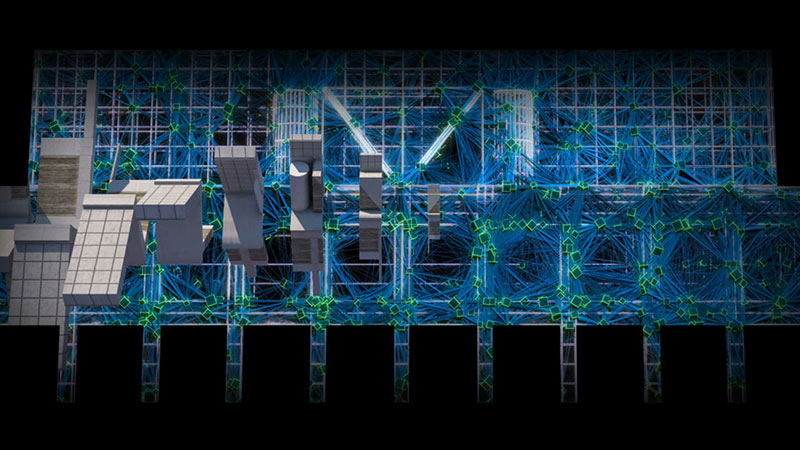 "Odyssey" by Maxime Guislain
Projection Mapping International Competition (MEDIARTS ZUSHI) Grand Prize Winner (2014)
As a 3DCG artist, so far he has worked on visual effects technically in the projection mapping industry. Also, he has worked on numerous projects including the musical "Peter Pan THE NEVER ENDING STORY", for the opening of the Beijing International Film Festival 2013, Patek Philippe 175th Anniversary Collection, and the opening ceremony of "Mons 2015 European capital of culture." As a 3DCG artist, he constantly seeks new experiences and ideas.
CONFERENCE
Conferences held to explore "possible cities" from various perspectives such as artists,
researchers designers, engineers, companies and administrations in both Japan and overseas.

Theme: "City As ___"
Is not the city going into a dead end of evolution physically and institutionally? Such as rapid climate change, unstoppable population decline, extreme wealth omnipresence, excessive evolution of technology, human life and eventually the way of cities are about to change drastically. We will weave words that symbolize "possible cities" by dialogues of pioneers invited not only from the viewpoints of government and developers but also from various fields promoting culture and technology.
SPEAKERS / PERFORMERS / MODERATOR
---
(As of Dec 30nd It's possible for a slight change to occur)
WORKSHOP
A workshop held for children, local people, young creators and various people,
Enabling them to enjoy experiencing and creation.
TICKETS
Conference + Art Exhibition
1Day ticket 3,000 JPY
2Day ticket 5,000 JPY
Art Exhibition (AVA/V2)
Adults: 1,000 JPY
High school students and under: 500 JPY
*Art Exhibition (AVA/V2) viewing only, no advanced registration necessary.
Please come to the venue on the day.
*Viewing Projection mapping is free
Registration Period: Early December - January 10th (Thursday)
Sponsorship: Makuhari Messe
Makuhari Messe who opened as Japan's largest convention facility will celebrates its 30th anniversary in 2019. Makuhari Messe has offered a "venue" that both technology and entertainment events have been held consistently at so far, but this time we will start a project focusing on "art and city" from the "venue" in the future.
We think that by working with people of various genres such as artists, companies, government, researchers, people living local, not only know how to appreciate "art" but how to make use of them in the development of the city. By seeing the different point of views, we are aiming for a synergistic effect.
Through this project, we aim to further develop the city of Makuhari Shintoshin, that we have been spending our time with Makuhari Messe to create a place to connect "companies (technology and products)" and "creators/artists (ideas and expressions)".
As the first step, we are invite artists, creators, researchers and others who are active in the world and plan to hold events mainly conferences and talk sessions. Taking this opportunity, we plan to hold hackathons, competitions, business exhibitions and other plans in the future and hope to disseminate the venue throughout the entirety of Makuhari Shintoshin.